Heart Strength Designs....Gives Back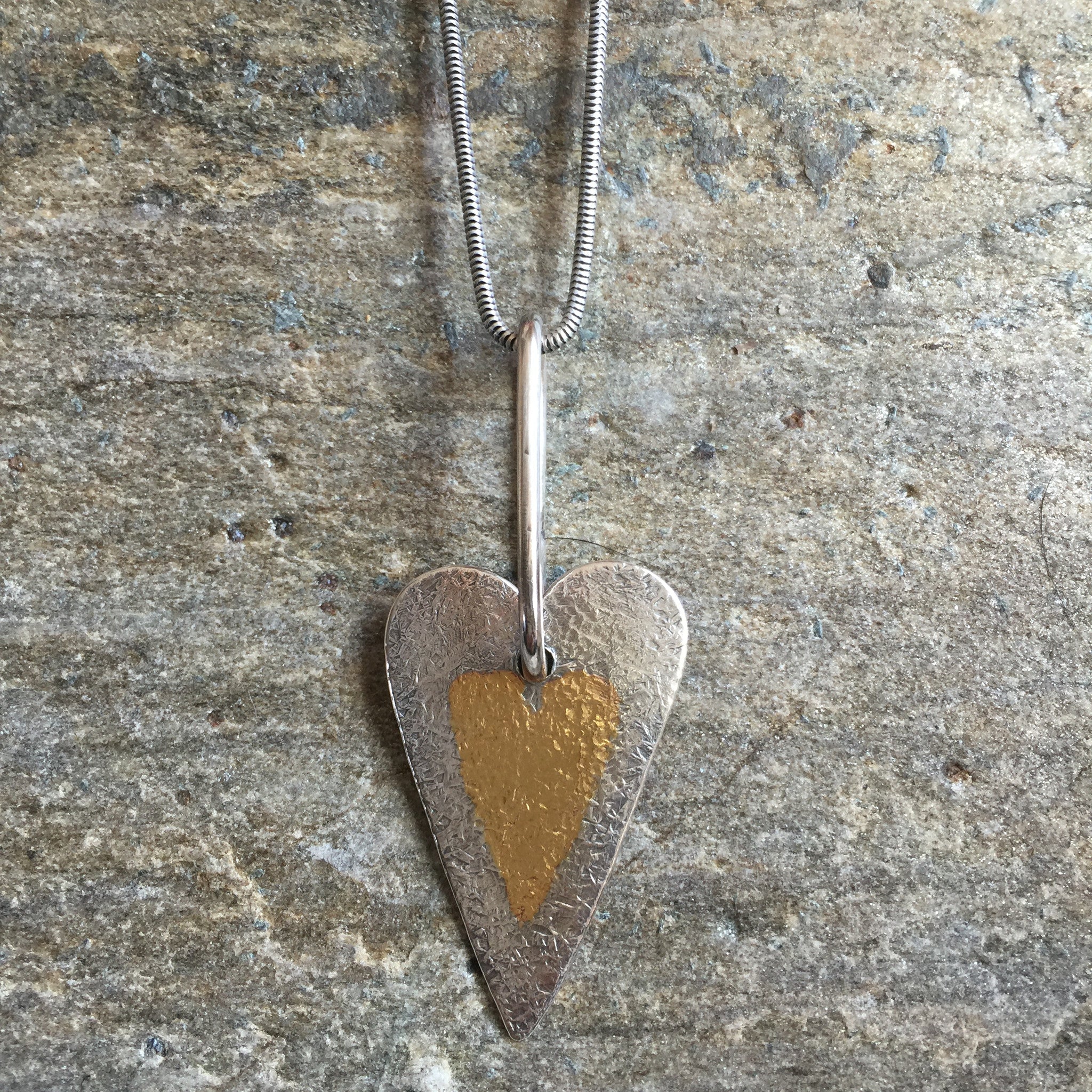 Heart Strong #5
One of a kind Heart Love Pendant It has been a whirlwind Heart Health month of February full of sharing, creating, communicating and breathing in the amazing energy that has been flowing into this project of giving back. When I started with the idea on January 31st I had little time to translate my intentions on how to give back for the entire month of February. I found that it was my family, supporters, collectors, clients and the families of other CHD children & adults who showed me the way. They connected...responded...inquired....ordered and shared stories of why they felt this fund raising effort was to close to their hearts. <3 They purchased hearts in support of CDH and in memory of lost little ones and amazing stories of resilience  for those now in their 20's , 30's and older living active lives after early childhood surgeries for congenital heart defects. Some where Mothers, Fathers, other family members of CHD sufferers, as well as caretakers, (nurses both pediatric and cardiac) and then those who just wanted to help.
Finn's 1yr Cardiac Appointment
 Complete strangers connected with me because you cared and you shared, the Children's Heart Foundation shared and the social media community fulfilled a greater purpose to spread the word. It was humbling, heartfelt and emotional every moment of the day. I created with all of these people in mind, with Finn in my heart and with the intent that I could make a difference for them and for their loved ones.
 I watched the messages on FB, on my personal page, Circle Stone Designs page,  Instagram from across the pond in Great Britain even! Emails from those I know, love and cherish wanted to be part of my  #giveback campaign for CHD. It kept me smiling and every time I saw Finn, either by FaceTime(so grateful for that connection) or giving him a big Hunny hug in person I felt my emotion and love grow. I felt that the purpose of this month of February was my gift, a gift that I made happen. Not a sacrifice but a choice to love and share the love, to create and donate money for a cause that is close to the hearts of so many.
 None of this was possible without the support and love of my family. The partner of mine who cheered me on everyday even through the struggle through her own Lyme illness, Pam she is, has and will always be my rock. Truly the person I draw on for strength and support, honesty and love, she made this possible. From the Little Lockwood family, Ashley, Casey, Holden & Finn who have shown the world that they are strong together and able to create a life that is full of  a sense of adventure and love of what the future has to offer them. To the extended family, Finn's Great Grandmothers who gave their support and love as well as the Aunties who shared and now wear their hearts in support. The entire family all who shared and cared enough to spread the word helped me make all of this possible.
 I have to share that my core of collectors/friends as well as Pam's came out in amazing support, they donated and shared, they did so with great care and emotion. So many of my Sisters of the Stone wanted to be a part of the fundraiser, as always they connect with me on a level that makes my elemental work feel strong & important. They bought 1, even 2 pieces to show support and than shared with others so that the word would spread. My heart was feeling love with every communication only to be overwhelmed to see the hearts being worn and cherished with even more love.
The Little Lockwood Family
 I would like to especially thank Casey & Ashley for allowing me to take on this project and their support of it. Having a child  like Finn, that had a bit of a rough start and living as healthy a life as a CHD toddler can have, is amazing. Being reminded every day for a month that there is so much to be grateful for and yet a bit of uncertainty in the life ahead is not easy on any level. The support and love has lifted them up for heart month and allowed them to see, yet again that their community is right there along with their family on this journey. Through adventures and challenges they will never walk alone on this path.
Shipments of Heart Strong Necklaces!!
So details are continuing to emerge as to the dollar totals that I was able to raise this past month. I have commitments for over $4,700 and to tell the truth if everything does come through I would imagine reaching a goal of $5,00o is not out the question. Yes...I never would have imagined an idea with 4 designs to start would be this amazing and raise this much money. Donating 100% of each of these hearts felt right and I felt that I was vested in the cause by being invested by my own donation of time and materials to CHD. When I imagine the year ahead I feel that moving forward it is necessary for me to continue to give back to the Children's Heart Foundation to fund CHD research. Yes this journey has proven that my heart is truly in it and that with the momentum created by each of you I intend to allow these Heart Strength Designs to give back all year long. I will market each Heart Strong piece through social media and my new Circle Stone Designs website (which is currently under construction and waiting for my attention) so that I can donate 30% of the proceeds from the sale of each creation.
Heart Strength Designs 2016
From March 1st to January 31, 2017 I pledge to donate my 30% each month to the same charity that I will send off your checks to later this month. I will enjoy the journey further by adding new pieces, designs and options for the hearts I have already released. Heart Strong necklaces #1,#2,#3, #4 will be available with different necklace options and lengths so you can customize your purchase and also still support the cause with my 30% commitment to CHF.
Finn's Heart Stone Gift from Hunny 2014
It's going to be an amazing year, so now it's time for me to get all of the hearts that you have committed to donate for and I have committed to make finished. Work on the website updates and create new promotional materials for Heart Strength Designs. I'm going to continue my connection to my beach stones and metalsmithing designs, after all the tapping of the hammer and searching the beaches for treasures does fill my creative well. I am looking forward to my journey of love and hearts this year and to watching the Little Lockwood family explore their lives and adventures as well as the healing of my Pam, my rock who always helps me find my way when things get a little unfocused. It is with immense gratitude that I thank you all for your love & support and I hope that you will continue to follow my journey of creativity and purpose for the years to come. <3 <3 <3 Anita                                                                                                                                                                aka; Finn & Holden's Hunny
Leave a comment